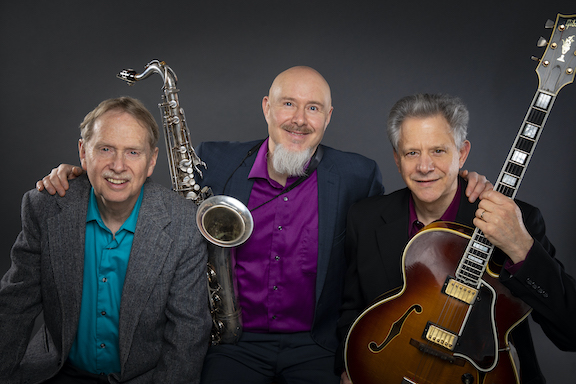 Summer Jazz Camp Description
AJW August 2-7, 2021 Jazz Camp is back! Join us for an unforgettable musical experience stretching your creative music communication skills through the exploration of Jazz Improvisation, in a Covid19 safe learning environment!
The AJW faculty members are excited to resume the August summer day camp, after taking a break in 2020, due to Corona Virus, after 19 years of fun jazz camps. This years In Person camp will continue the AJW's tradition of connecting grade 7 – adults music students with great faculty; featuring Alaska Master artists John Damberg, Mark Manners, Rick Zelinsky, Cameron Cartland and Bob Andrews. Students will explore the exciting world of music improvisation over Hot Swing, Blues, Funk and Latin grooves. Beginning to advanced level ensembles are offered. Classes are held from 9am to 2:30pm Monday – Friday. Students will receive 25 hours of instruction in small combo settings of 5-7 members, building their song repertoire, improvisation, music theory, performance, communication and teaming skills. The camp concludes with two exciting concerts featuring the AJW Faculty Jazz Ensemble on Friday and the Student Jazz Combos on Saturday nights. Classes and concerts will be held at either the UAA Arts Building, Lumen Christi High School or Anchorage Lutheran Church (depending which facility is available).
Tuition is $400. Limited Work Tuition Scholarships available. Registration deadline is July 9, 2021.
Beginning Section is for students just beginning to improvise. Students need to know the notes on their instrument, be able to read music and play at least six major scales. This class will focus on developing basic improvisation skills including: music interval, chord, blues, major & minor scales, and key center recognition. Students will explore five songs in the 12 bar blues form in different rhythmic feels including: Funk, Swing, Slow Blues, Bossa Nova, and New Orleans 2nd Line Style March.
Intermediate Section is for students who have past experience improvising in a school group or an AJW group. They need to prove, via a placement audition, they have mastered the basic improvisational skills covered in the AJW Beginning section. These sections focus on soloing over more advanced 32 bar song forms, chord changes and rhythm styles.

Advanced Section will focus on developing song repertoire in a wide variety of styles including: jazz, Blues, Latin, funk, pop,etc. Students will build song repertoirie through reading music, rehearsing as a band, listening and transcribing songs, and through exploring and expressing their inner vocabulary on their instruments. Weekly assignments will be given to promote learning new vocablary, song repertoire, and developing improvisation skills.
CHANGES/ADJUSTMENTS FROM PAST YEARS
Covid 19 Risk Mitigation Plan, August Jazz Camp 2021
To creat a Covid safe learning environment, the AJW Jazz Camp faculty and students will Follow current CDC, ACA & DHSS guidelines in place at the time of the camp, including wearing face masks in public spaces, except when playing instruments, social distancing, washing hands regularly, cleaning classrooms music equipment daily, providing hand sanitizing stations in classrooms, and screening temperatures and symptoms daily, and small class sizes of 5-7 students in well ventilated classrooms. All students need to be vaccinated. Students showing Covid 19 symptoms should stay home and alert their teacher if they have exposed other students.
Waiver of Liability Disclaimer:
All student participants are required to sign a liability waiver form agreeing to not hold the Alaska Jazz Workshop, its faculty members, and the University of Alaska (or Lumen Christi High School) liable for damages for students developing the Covid-19 virus during the AJW August 2-7, 2010 Jazz Camp.
Cancellation & Withdrawal Policy
Tuition is fully refundable, less a $50 registration processing fee, until July 1, 2021. After July 1, 2021 the tuition is non-refundable, except in cases of illness or family emergency. If the AJW cancels the camp at any point, tuition is refundable.
AJW August 2-7, 2021 Jazz Camp Special Rules:
All Camp participants must show proof of vaccination for the Covid-19 virus, to be submitted with the camp registration form.


Location: the Jazz Camp will take place at either the Uaa Fine Arts Building or at Lumen Christi School (depending on which facility is available). The exact location will be provided by July 1, 2021.
The AJW will follow the current CDDC, ACA, DHSS guidelines at the time of the camp.

The information below is subject to change as recommendations evolve

:
Wear a cloth face covering in public spaces, except during meals or during approved activities, including playing a brass or wind instrument.
Brass and woodwind instruments will use bell covers to reduce the aerosols coming out of the instruments and zipper masks.
Students will only touch and play their own instruments.
Washing hands frequently throughout the day, before meals and after using the restroom.
Screen temperatures and symptoms daily.
Daily cleaning of shared workspaces, materials and high touch areas.
Providing hand sanitizing stations and sanitary wipes in classrooms.
Small socially distanced class sizes of 5-7 students in large classrooms.
Well ventilated classrooms
Call John Damberg for more information and to schedule your level placement audition at 907-332-3234.
Level Requirements
Beginning Class

Students need to know the notes on their instrument. Be able to read music. Play at least six or more major scales. They must want to learn how to improvise.
Drummers need to know how to keep steady time when playing the following beats:
swing, basic rock, Latin Rock, shuffle, jazz waltz, hip hop, and the 12/8 gospel slow blues beat.
Students agree to come to class prepared to learn by bringing their music books, pencil, drum sticks, and instruments. They also agree to practice their assigned pieces and improvisation exercises.
Students must attend all classes & are required to perform in the student recitals, except in the case of sickness and family or national emergencies.
Intermediate Class
Students need to prove, via a placement audition, they have mastered the basic music theory and improvisational skills covered in the AJW Beginning section including:
Interval recognition, Knowledge of major scales, the modes of the major scale, and blues scales in C, F, Bb, Eb, Ab, and A concert.
Knowledge of how to form  the basic 3 note triads and 4 note 7th. chords. Ability to solo on the 12 bar blues form. Ability to play the following song melodies and solo on them- Bag's Groove, Watermelon Man, Blue Bossa, Mercy, Mercy , Mercy, and Tenor Madness.
Advanced Class
Students should be able to sight-read music and improvise at the intermediate to advanced level. They should have at least two years of experience playing in a school jazz ensemble or one of the AJW Jazz Ensembles. 
Students should be able to solo effectively over the more advanced chord changes in the following songs including: Take the A Train, Tune Up, Four, Road Song, In a Sentimental Mood, and the Chicken. 
Audition Information
Level Placement Auditions:
New students and students wanting to move to the next class level must schedule a level placement audition with John Damberg.
Auditions last one hour.
Students will be asked to do the following:
All Students should be prepared to perform one prepared piece of music that demonstrates their current playing level
Play any major and blues scales they may know,
Sight-read music
Improvise on a song that demonstrates their playing ability from a simple 12 bar blues song to a more complex 32 bar standard song form.
Students will be asked music theory questions to determine their knowledge level.
Please contact John Damberg to set up auditions at: (907) 332-3234.
Supplies/Books
Book Requirements
All Classes:  
The Jazz Language,
by Dan Hearle, $15
Beginner Class:
Real Easy Book Level 1  (3 horn edition) in C, Bb, Eb, B Cl, by Sher Music Co.,
Essential Elements of Jazz  in C, Bb, Eb, B Cl, by Mike Steinel, Hal Leonard Pub.
Intermediate and Advanced Classes:
Real Easy Book Vol.2, by Sher Music, in C, Bb, Eb, B. Cl,
The Real Book 6th Edition, Hal Leonard Pub.
Practic Apps, iReal Pro, OS, iOS, Android
The books are available at Alaska Music and Sound (the Horn Doctor), at the Music Man, and online too.
August Camp Application
Scholarships