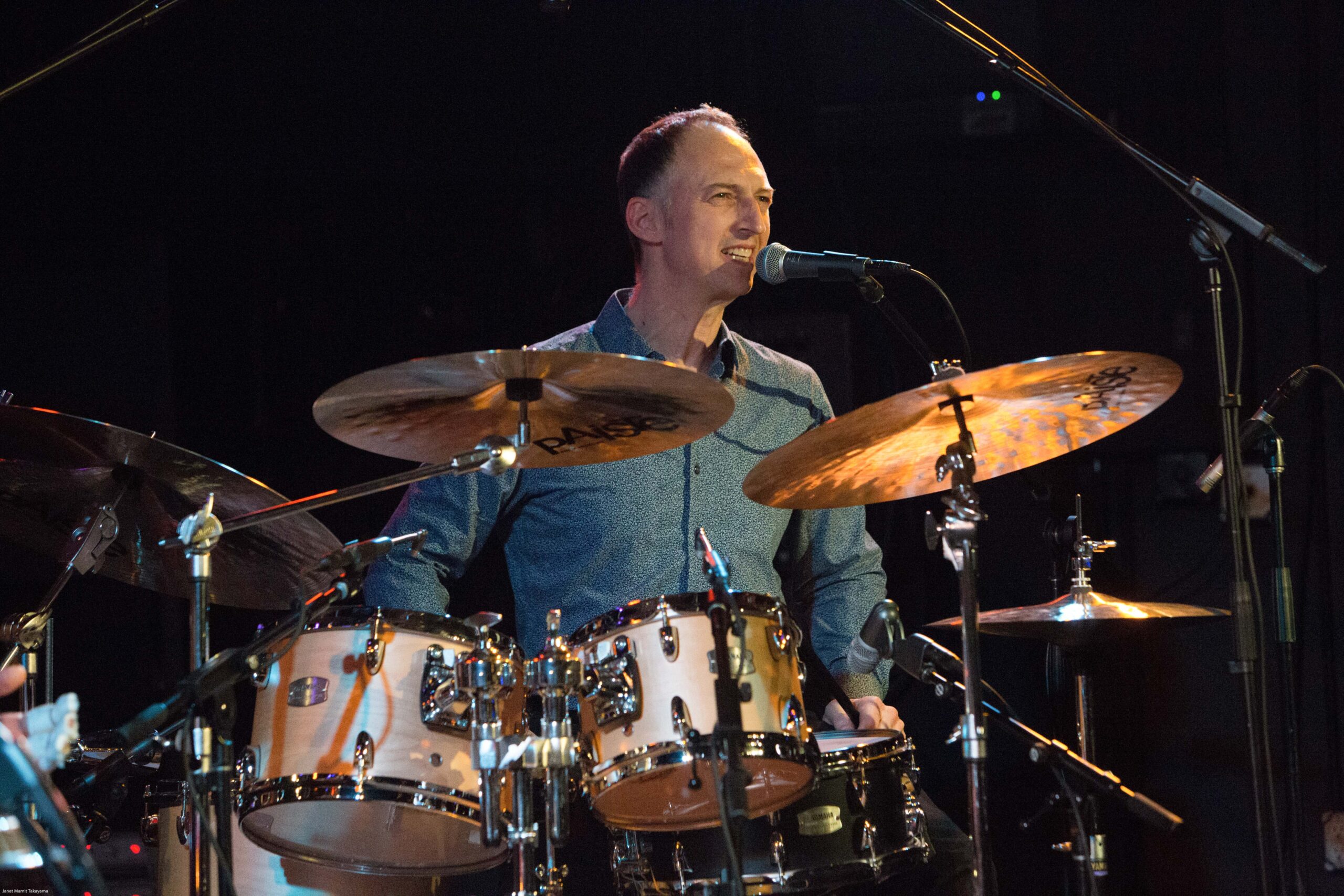 2023 Summer Jazz Camp featuring Mark Walker, Latin Jazz drummer/educator
July 31 – August 5, 2023 – AJW Jazz Camp  Join us for an unforgettable musical experience stretching your creative music communication skills through the exploration of Jazz Improvisation.
The AJW faculty members are excited to hold the AJW Summer 2023 Jazz Camp at UAA. This years camp will continue the AJW's tradition of connecting grade 7 – adults music students with great faculty; featuring guest artist Mark Walker, internationally acclaimed Latin Jazz drummer and educator & Alaska Master artists John Damberg, Mark Manners, Nick Petumenos, Jacques Annandale and more. Students will explore the exciting world of music improvisation over Hot Swing, Blues, Funk and Latin grooves. Beginning to advanced level ensembles are offered. Classes are held from 9am to 2:30pm Monday – Friday. Students will receive 25 hours of instruction in small combo settings of 5-7 members, building their song repertoire, improvisation, music theory, performance, communication and teaming skills. The camp concludes with two exciting concerts featuring the AJW Faculty Jazz Ensemble on Friday and the Student Jazz Combos on Saturday nights. Classes and concerts will be held at the UAA Fine Arts Building.
Tuition is $450 (cash/check) or $465 (credit card). Limited Tuition Work Scholarships available. Registration deadline is July 11, 2023.
Beginning Section is for students just beginning to improvise. Students need to know the notes on their instrument, be able to read music, and play at least six major scales. This class will focus on developing basic improvisation skills including: music interval, chord, blues, major & minor scales, and key center recognition. Students will explore five songs in the 12 bar blues form in different rhythmic feels including: Funk, Swing, Slow Blues, Bossa Nova, and New Orleans 2nd Line Style March.
Intermediate Section is for students who have past experience improvising in a school group or an AJW group. They need to prove, via a placement audition, they have mastered the basic improvisational skills covered in the AJW Beginning section. This class will focus on soloing over more advanced 32 bar song forms, chord changes and rhythm styles.

Advanced Section will focus on developing song repertoire in a wide variety of styles including: jazz, Blues, Latin, funk, pop,etc. Students will build song repertoirie through reading music, rehearsing as a band, listening and transcribing songs, and through exploring and expressing their inner vocabulary on their instruments. Daily assignments will be given to promote learning new vocabulary, song repertoire, and developing improvisation skills.
Cancellation & Withdrawal Policy:
Tuition is fully refundable, less a $50 registration processing fee, until July 30, 2023. After camp begins on July 31, 2023 the tuition is non-refundable, except in cases of illness or family emergency. If the AJW cancels the camp at any point, tuition is refundable.
Call John Damberg for more information and to schedule your level placement audition at 907-332-3234.
Level Requirements
Beginning Class

Students need to know the notes on their instrument. Be able to read music. Play at least six or more major scales. They must want to learn how to improvise.
Drummers need to know how to keep steady time when playing the following beats:
swing, basic rock, Latin Rock, shuffle, jazz waltz, hip hop, and the 12/8 gospel slow blues beat.
Students agree to come to class prepared to learn by bringing their music books, pencil, drum sticks, and instruments. They also agree to practice their assigned pieces and improvisation exercises.
Students must attend all classes & are required to perform in the student recitals, except in the case of sickness and family or national emergencies.
Intermediate Class
Students need to prove, via a placement audition, they have mastered the basic music theory and improvisational skills covered in the AJW Beginning section including:
Interval recognition, Knowledge of major scales, the modes of the major scale, and blues scales in C, F, Bb, Eb, Ab, and A concert.
Knowledge of how to form  the basic 3 note triads and 4 note 7th. chords. Ability to solo on the 12 bar blues form. Ability to play the following song melodies and solo on them- Bag's Groove, Watermelon Man, Blue Bossa, Mercy, Mercy , Mercy, and Tenor Madness.
Advanced Class
Students should be able to sight-read music and improvise at the intermediate to advanced level. They should have at least two years of experience playing in a school jazz ensemble or one of the AJW Jazz Ensembles. 
Students should be able to solo effectively over the more advanced chord changes in the following songs including: Take the A Train, Tune Up, Four, Road Song, In a Sentimental Mood, and the Chicken. 
Audition Information
Level Placement Auditions:
New students and students wanting to move to the next class level must schedule a level placement audition with John Damberg.
Auditions last one hour.
Students will be asked to do the following:
All Students should be prepared to perform one prepared piece of music that demonstrates their current playing level
Play any major and blues scales they may know,
Sight-read music
Improvise on a song that demonstrates their playing ability from a simple 12 bar blues song to a more complex 32 bar standard song form.
Students will be asked music theory questions to determine their knowledge level.
Please contact John Damberg to set up auditions at: (907) 332-3234.
Books for Class
Instruments for Class
Summer Jazz Camp Application
Scholarships