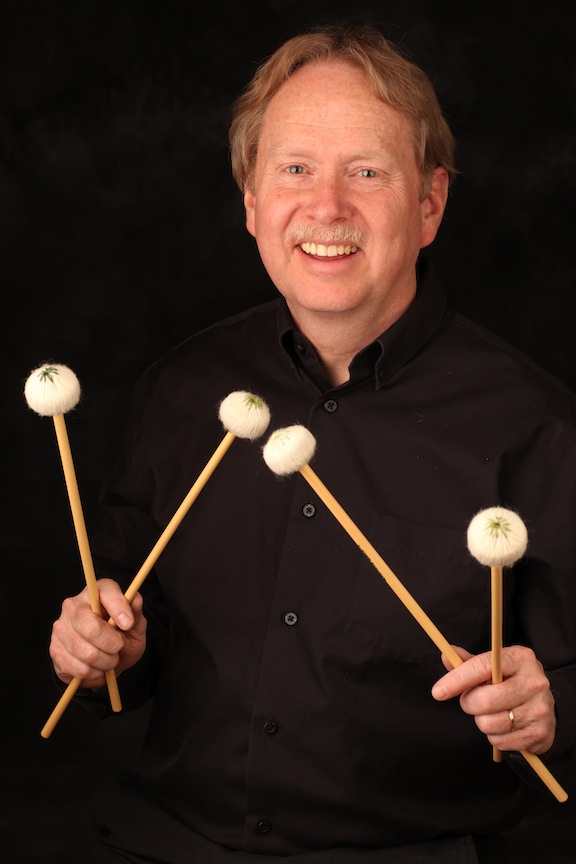 John Damberg
Instructor
John Damberg is a master vibist, marimbist, percussionist, composer and educator who has enjoyed a successful career in music spanning 40 years. John currently resides in Anchorage, Alaska where he is the leader of the John Damberg Latin Jazz Quintet, the Instructor of Percussion at the University of Alaska Anchorage, Executive Director of the Alaska Jazz Workshop, and the past President and Vice-President of the Percussive Arts Society Alaska Chapter. John is an active performer in  the Alaska and Pacific Northwest music and he is an ardent promoter of jazz & percussion education.
As a percussionist, John has performed in a wide variety of musical settings nationally and internationally.
As a composer, John writes music for his Latin Jazz Quintet and for other creative projects including: movie sound tracks, travel videos and children's educational videos.
John's interest in music, nature and different world cultures has taken him on many interesting musical journeys throughout North, Central and South America. From the high mountains of Glacier National Park, Montana to the warm islands of the Caribbean and back to the incredible scenery and native cultures that make up Alaska, John has experienced the music of the land and the diverse music cultures of its native inhabitants. From these experiences, John developed his focus on using improvisatory music as a vehicle for self expression, communication and to develop a sense of balance between one's inner spirit and the surrounding world. For more bio johndamberg.com.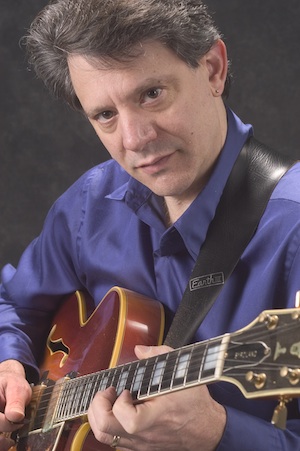 Mark Manners
Instructor
Mark Manners started playing guitar at the age of 12, three years later he began studying jazz with John Colins, a Los Angeles studio musician. In 1983 he graduated form the Guitar Institute of Technology in Hollywood, CA and began work in the music business in that area. One year later his band signed an eight week contract to play in Anchorage, AK, where he currently resides. His successful career has included five and a half years performing with Micky and the Mustangs, a variety dance band, and over four years performing with The Long Riders country rock group. Mark has appeared in numerous opening acts for concerts at the Egan Center and the Sullivan Arena. Mark is currently a member of the John Damberg Latin Jazz Ensemble. He also maintains a full studio of private guitar students and is an instructor for the Alaska Jazz Workshop. Mark is also a gifted composer Mark who regularly contributes new songs to various projects including the John Damberg Latin Jazz Ensemble and the Jo Ma La Jazz Ensemble.
Mark is one of the leading guitarists on the Anchorage music scene. He is active performing in a wide variety of live venues, in the recording studio, and as an music educator in guitar and clarinet. Mark is a versatile guitarist who is equally at home performing music ranging from popular to country and jazz.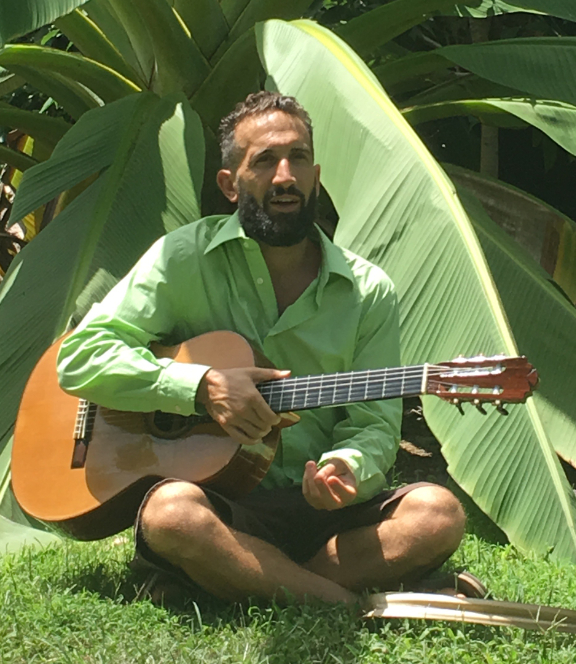 Nick Petumenos
Instructor
Nicholas Petumenos was born and raised in Anchorage, Alaska. He began his formal study of music at the University of Alaska and completed a Bachelor's degree at Berklee College of Music in 2000. In 2003, Petumenos recorded "Caught in the Act" with the Inuit Tribal Funk group Pamyua, which won record of the year for Native American music. Petumenos has been traveling and performing nationally and internationally with Pamyua since. He has studied guitar in Spain and Brazil. Petumenos considers versatility to be his main instrument. In 2015, he earned a Masters degree in music from the University of Miami and in 2018, completed a Doctor of Musical Arts degree. He teaches guitar and bass at Broward College and performs regularly with various ensembles in South Florida and Anchorage, Alaska. For more info:  nicholaspetumenosmusic.com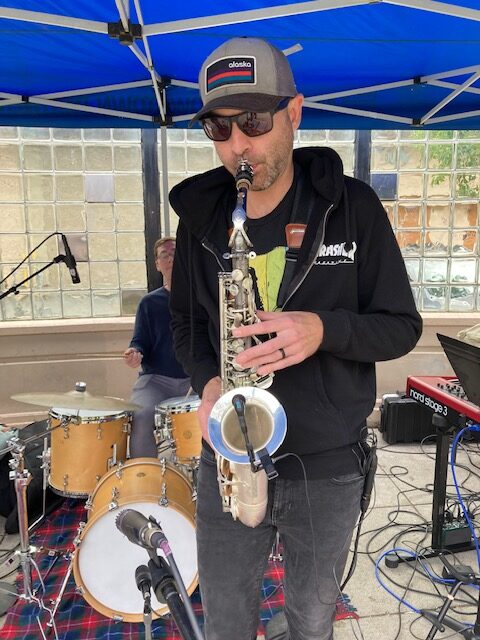 Jacques Annandale
Instructor
Jacques Annandale is a musician and saxophonist who emigrated from South Africa to Colorado as a child with his family. His adventurous musical journey began in elementary school when his grandparents bought him an alto saxophone even though he wanted a guitar. Needless to say, he wasn't a happy camper, but at that moment he didn't understand the gift laid in his hands. With some time, effort, motivation and guidance from musical educators, Jacques discovered a lifelong passion for his saxophone, jazz, and music.
As a high schooler he began playing professionally at local Denver restaurants, bars, and weddings. In the 2010s he moved up to Alaska and met John Damberg who connected him with the Spenard Jazz Festival where Jacques began volunteering, organizing, and performing for the festival. Through that organization he was introduced to a variety of local musicians and started performing with them in bands like the Anchorage Jazz Ensemble, the Dan Mac Band, the Spenard Jazz Messengers, the Nick Anthony Band, and Quadshot (a saxophone quartet). His own band, Jacqtet, is a fluid group of musicians that play a fusion of jazz, funk, neo soul, and rock. With these bands, over the past decade, he has helped nonprofits like Beacon Hill, Alaska Medical Missions, and the Alaska Aviation Museum raise funds with live music performances.
With his diverse professional music experience, Jacques began teaching private music lessons in 2021 to pass onto the next generation the excitement, joy, and peace that come from music.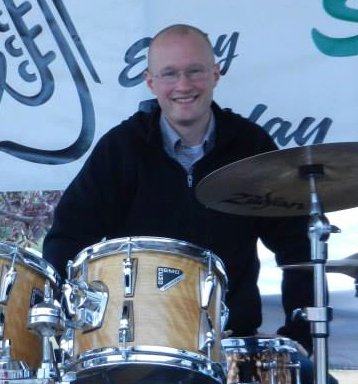 Cameron Cartland
Instructor
Cameron Cartland is the driving force behind the engine room of the John Damberg Latin Jazz Quintet. A talented and dedicated musician, Cameron has mastered many complex Latin, Afro Cuban, and Brazilian drumming styles. Cameron has attended the Berklee College of Music in Boston and holds a Bachelors Degree from the in Economics and Russian Studies from the University of Alaska Anchorage. Cameron has performed with the John Damberg Latin Jazz Ensemble for 8 years and is in high demand as a drummer on the Anchorage music scene currently performing with Pamyua.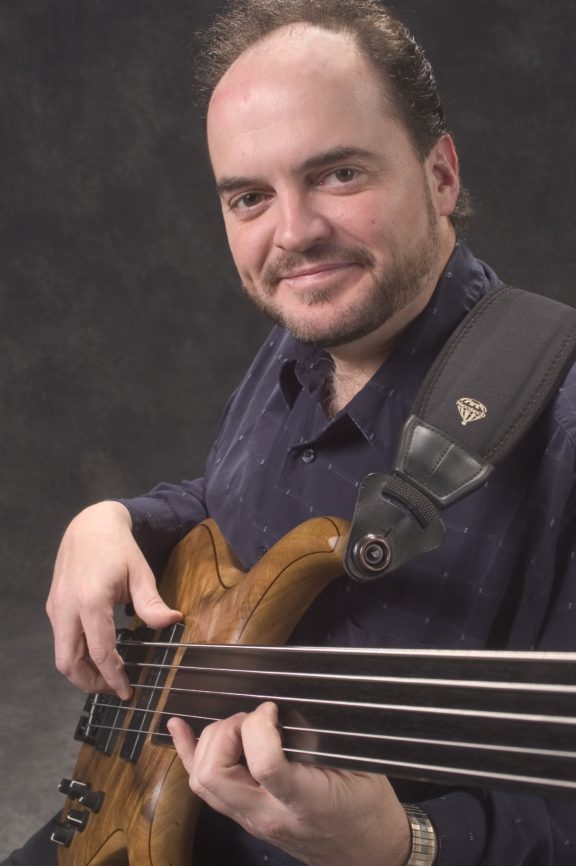 Bob Andrews
Instructor
Bob is an accomplished and seasoned electric and upright bassist with over 25 years of professional performance experience who makes a great addition to the John Damberg Latin Jazz Quintet. Bob provides a solid harmonic foundation and he blends well with Cameron's rhythmic pulse to synergize great grooves for the soloists to improvise on. Originally from Iowa, Bob has traveled throughout the United States and Canada, performing, studying and teaching in New York, Chicago, Minneapolis, Dallas and Los Angeles. His list of performing credits includes jazz combos and big bands; rock, country, funk, Latin and pop bands; symphonic, chamber ensembles, concert bands and wind ensembles; and television, radio and album recording sessions. Bob holds a BM degree in bass performance, composition and jazz studies from Coe College in Cedar Rapids, Iowa where he received numerous awards and citations. He has studied with jazz greats Jack DeJohnette, John Abercrombie, Chuck Deardorf, Anthony Braxton and L.A. studio keyboardist Mike Boddicker. Bob is currently in a first call bassist on the Anchorage music scene.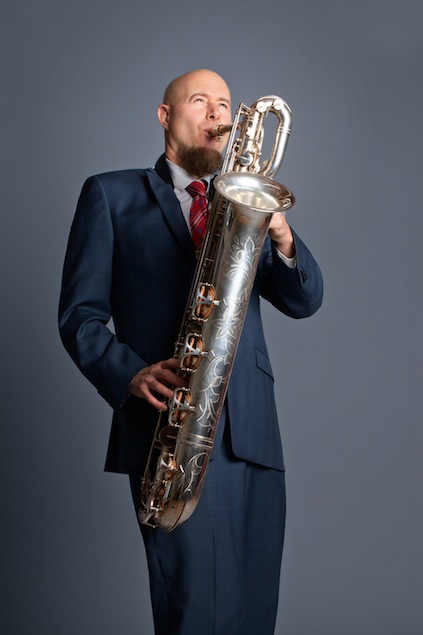 Rick Zelinsky
Instructor
Rick is a saxophone & clarinet artist in Alaska. He teaches band in the Anchorage School District and saxophone at the University of Alaska, Anchorage. Rick received full saxophone scholarships for both undergraduate & graduate degrees, and he received a B.A. in Music Performance from Cleveland State University and Master of Music in Saxophone Performance from the University of Akron. Rick was accepted into Doctorate program for saxophone at the University of Indiana with the famous Eugene Rousseau, but instead decided to break from school and has been in Alaska for the last several years dedicating his life to performing and teaching.
In 2015-16, Rick has been working with Berklee School of Music faculty in composing and producing electronic music. He's excited to be working on new sounds and grooves for his upcoming Zelectrik project incorporating jazz elements with electronica. For more bio icygrooves.com.